Chianti
The rolling hills of the Chianti between Florence and Siena are known as the symbol of Tuscany, where many famous vineyards can be found. Old castles and fortresses, along with thick forests and vast fields define the well-known landscape.
Impressive fortresses, renovated castles with cypress-filled gardens and villages protected by massive city walls, stand side by side throughout the region.
They bear witness to the period of time, when the rulers of Florence and Siena fought against each other over the Chianti. It was not until the end of these territorial conflicts in the 16th century, that the region could develop.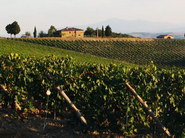 Famous winegrowing area
The Chianti Classico became well known early on and is the most famous wine region in Italy today.
Olives are also grown in the fields and made into fine oils.
Farmers and winegrowers structured the Chianti's landscape to include spacious areas under cultivation, which are divided by impenetrable macchia and wooded cliffs.
Lega del Chianti
The founding of the Lega del Chianti united the free districts Castellina, Radda, Gaiole and Greve in the Middle Ages. Today, they are still the most important places of the region, Greve having expanded to be the capital of the Chianti Classico.
Towns in the Chianti:
{$VAR_EXTRATHEMEN_TEXT}
Empfehlung